Securus Video Visitation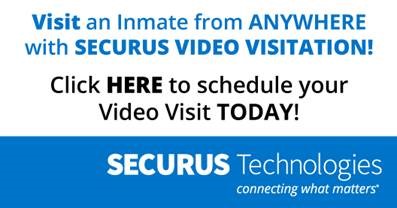 SECURUS TECHNOLOGIES - SCHEDULE YOUR VISIT ONLINE
Barren County Detention Center allows you to schedule your next video visits with your loved one online.
Scheduling Your Visit is Easy!

Click on the "Schedule an Onsite Visit" button
Select the state and correctional facility where you loved one is housed
Search for the inmate who you want to visit
Select the duration, date and time and click "Finish"
Once completed, your information will be forwarded to the facility.
What happens next?
A confirmation email containing your Personal Identification Number (PIN) will be sent to you
Be sure to print this email and bring it with you to your scheduled visit
Arrive 30 minutes before you scheduled visit
Enter in you PIN number two minutes before your visit is set to start and ENJOY!
Sign up for Securus Vidoe Visitation Today!
You can now visit an inmate from anywhere with internet access* from your Android or Apple smartphone, tablet, or computer and webcam.
Benefits:
Easy and Convenient
Include More People
Stay Connected by sharing birthdays and special events
Save time by not traveling to the jail and taking off from work. Visit from anywhere that is convenient for you.
Visiting From Anywhere is Easy!
Create a Securus Onine account by going to www.videovisitanywhere.com. Click "Sign Up" to create your account. You will need to submit a photo and government issued ID for approval to visit at the facility.
Once approved, log in to your Securus Online account and select "Schedule a Visit"
Enjoy your anywhere video visit!
Frequently Asked Questions About Video Visitation at Barren County Detention Center
On Wednesday, March 8 the Barren County Detention Center will begin using a "Video Visitation" system for all friends and family visits with inmates.  The following are answers to our most frequently asked questions.


Q: How does the new video visitation system work?
A: Inmates will visit with friends and family from a video visitation terminal in their housing unit.  Friends and family will visit from a similar visitation terminal in the public visitation room located in the administration lobby.  These visits are referred to as "onsite" or "public" visitations.
The new system will allow visitors to still come to the jail for visitation and it will now also allow friends and family to conduct a "remote" or "at-home" visit from home using a computer, webcam and high speed internet connection an a smartphone/tablet  'app'.
---
Q: How often can I visit inmates?
A:  Each inmate is allowed two 20 minute visit from friends or family members weekly at the jail. Inmates can have unlimited remote visits from home.

---
Q: Do I need to come at a certain time to see my inmate?
A: Friends and family can schedule visits with inmates during any time visitation is allowed.   Public visitation hours are:
| | | | |
| --- | --- | --- | --- |
| Monday - Wednesday | 8-11 am | Noon - 4 pm | |
| Thursday | 8-11 am | Noon - 4 pm | 5-7 pm |
| Friday - Saturday | 8-11 am | Noon - 4 pm | |
---
Q: Do I need to schedule my visit or can I just show up?
A: Visits need to be scheduled at least 24 hours in advance.  You will need to use the website www.videovisitanywhere.com.  You will then create a free user account (if you don't already have one) and submit that for approval by the facility.  Once you are approved, you can then log back in and click on "Schedule a Visit" at the bottom of the page and follow the steps listed.
When you schedule your visit, be sure to write down the following items:
 The date and time of your visit
The six digit PIN number because you will enter this at the time of your visit
The video terminal you are assigned to (I.E. Vis_1, Vis_2, etc.)
---
Q: Is there a charge for video visitation?
A: Each inmate will continue to receive two free onsite visits each week.

Inmates can now receive unlimited remote I at-home visits each week.  "At-home" visits will have a promotional price of $5 for 20 minutes for the first few months.
---
Q: When can I visit?
A: On-site Public visitation hours are
| | | | |
| --- | --- | --- | --- |
| Monday - Wednesday | 9:00 am | 1:00 pm | |
| Thursday | 9:00 am | 1:00 pm | |
| Friday - Saturday | 9:00 am | 1:00 pm | |
At-home visits can be scheduled every day of the week from 7:00 am - 10:00 pm.
---
Q: What do I need to do to visit from home?
A: You can conduct visits using an Apple or Android phone or tablet.  Download the free Securus Visitation app in the App Store or Google Play.
You can also use a computer with high speed internet access and a webcam.  You will need to do the following:
Create a visitation account at www.videovisitanywhere.com.
Request access to visit Barren County Detention Center.  Your request is then reviewed by jail staff.
Once you are approved to be an at-home visitor, you can then schedule at-home visits. Note: No account is required for on-site visitation.
---
Q: Is there anything else I should know?
A: Here is some other helpful information:
There will be NO age restriction for visitation. However, ALL visitors 17 years of age and under must be accompanied by their parent or legal guardian. Proof of this will be required before visitation is allowed. (Proof needed will be a Birth Certificate for parents or court papers for legal guardians)
Photo ID will be required for ALL visitors 10 years of age or older. Acceptable forms of ID will be, but not limited to, Driver's License, State ID cards, School ID, and Military ID. Other forms of photo ID may be accepted if valid.
If you have any questions about visiting from home, visit www.videovisitanywhere.com for further information.
When you arrive at the jail for an on-site visit, you can take your seat at your assigned terminal a couple minutes before your visit.  To start your visit, touch the "Video Visitation" icon.  Then enter your assigned PIN number on the next screen and hit the green 'OK' button.